From one of the Tiwai founders (Ray Crawford):

The house was originally a farm house on the land that was eventually leased by Comalco for the smelter. They used the land for running sheep for testing for any fallout from the plant.
We arranged the use of the house in about 1973 when one of the Branch members found it . We didn't know of its existence until then. I started work with Comalco at the begining of March 1971. I was the first DXer to join the Company. There were others in the Southland Branch (later) who were employed by the company. Bob Dunstone and Wyn Machon. Bob is still in In'gill but I think no longer a member and Wyn has moved to Auckland. Last I heard from him was over 10 years ago.
It was Wyn who brought it to the attention of the Branch and made arrangements with management ( the General Manager) who were pleased for us to have it for DXing.
A gun club wanted it but obviously the Company didn't want them shooting in the area.
We were allowed to do almost what we wanted at the site except structually alter the buildings. When any maintenance was required the company paid for it. They often had contractors do the work such as replace the spouting etc. We did paint the place inside and out with company supplied paint.
Of interest will be some details about the stations heard. A couple come to mind like R Cristal, Panama 1320 and CBA 1070 which was heard by me and Arthur Cushen. The first station he had heard from New Brunswick. Probably a first for NZ.

Southland Branch DXers Eddie Macaskill & Paul Aronsen at the dials. (Photo credit: Mark Nicholls)
Aerial view of Tiwai. Located on the edge of an estuary in the South-Eastern tip of the country, the Tiwai listening post has provided exceptional MW signals from all continents. The site has been used by the Southland Branch of the NZRDXL since the early 1970's. The house is to the slightly left of the centre of the photo.
View of Tiwai from Bluff Hill to the South. The DX site is right of centre.
Attendees of the 1978 Convention at Tiwai.L-R: Ross Renton, John Mainland. Leo Meizenbeek, Paul Ormandy, Paul Aronsen, John Lonie (front), Jim Benzoni, Arthur Cushen, Eric McIntosh, Sutton Burtenshaw, Charlie Chester, Owen Crawford, Ray Crawford, Ernie Moore, Steven Greenyer, Bruce Cavanagh, Harry Searle, John Allchin, Lindsay Robinso (absent: Ash Nallawalla, Gerald Harper, Eddie Macaskill).
Bryan Clark & Paul Ormandy logging Sudan 1296kHz from the caravan at Tiwai during the '78 Convention. The SPR-4 providing the signal though the Realistic TRF wasn't far behind..
Southland Branch BBQ in February 84 at Tiwai. Arthur Cushen is sitting at the table.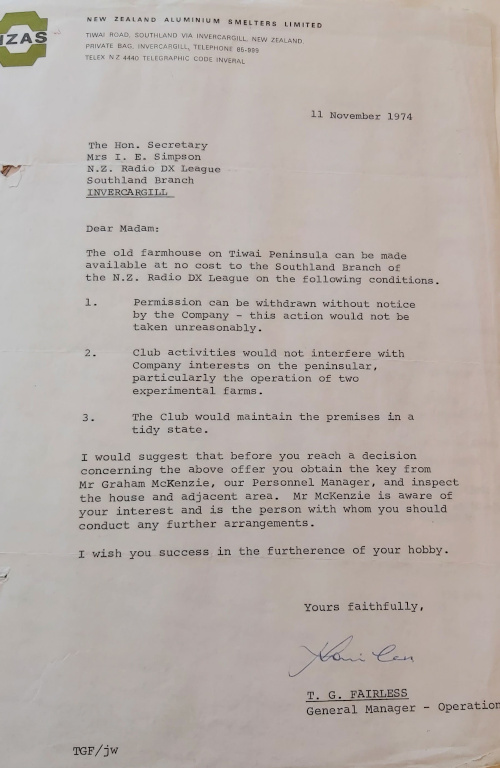 On the beach at Tiwai… the wood jutting out of the gravel is part of an old shipwreck. (Photo credit: Peter Grenfell)
Another shot of the Convention '78 visitors… (Photo credit: Paul Aronsen)
Lindsay Robinson tunes in. (Photo credit: Mark Nicholls)
The listening post. (Photo credit: Mark Nicholls)